Newsletter
Thursday 7th April, 2022
We care, we share, for the future we prepare. Building a better world, one student at a time…
Dear Parents and Guardians,
It gives me a great sense of pride to be able to reflect and write about the incredible term we have had so far – one which has been perhaps my most memorable to date in terms of the astounding response we have had to our charitable efforts as a school community. What has been so unique about this term is that our school ethos of being kind, being proud and being ready has had such a significance impact on our fundraising for recent world events that have been prevalent for all.
A few weeks ago, I was asked to arrange a collection for the Ukraine refugee crisis; a request that was of course inclusive within my role as Charity and Community Lead for The Arthur Terry School. However, whilst I began to plan and prepare for the collection, alongside the incredible amount of both staff and student volunteers, it dawned on me that this didn't necessarily feel like an act of charity but rather a very natural and of course vital response.
As the donations at first trickled in and eventually flooded our school hall, it was evident that members of the school community felt this way too – we needed to respond with urgency therefore as a school it was crucial that we were prepared and ready to contribute as much as possible. Through financial donations to UNICEF totalling £2,809.50 in addition to an essential item collection, I have been exceptionally proud of what we were able to achieve in such little time and humbled by the collective generosity across our school community.
Prior to this, the school also held a Children's Mental Health week; a very informative week where information for support was shared, ideas explored and once again through acts of kindness funds were raised. In total, we were able to raise £154.50 for the NSPCC through our 'Jazzy Socks Appeal' which meant that students were able to dress to express their individuality through the mode of colourful socks that stood out from the crowd.
We also held a non-unform day for Comic Relief and managed to raise a total of £1,018.00 for the incredible cause. In addition to this, as a school we have celebrated our students who also took on the challenge of raising funds outside of school; from sponsored walks to a cake sale totalling £600 in donations – our students have excelled.
To be able to end the term, knowing that we have been able to raise such incredible funds for deserving charities and those in receipt, fills me with exceptional pride – what an incredible community spirit we have in this school and what a difference we can make.
As always, our intent remains; to ensure that our students and staff strive to always be proud, be kind and ready – something which I have been exceptionally proud to see being weaved seamlessly across this term.
Long may it continue. Wishing you all a wonderful Easter and thanking you for your continued support!
Hayley Harding – Teacher of English and Innovation Leader for Community & Charity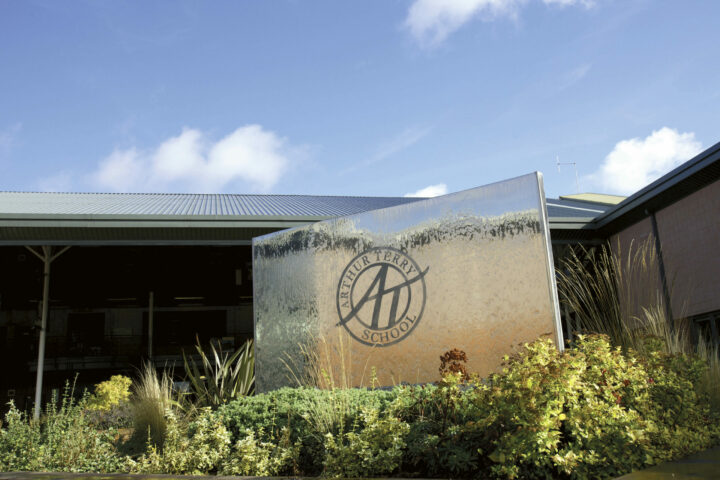 Summer Term Diary
| | |
| --- | --- |
| Thursday 7th April 2022 | Students break up for Easter Holiday |
| Monday 11th April – Friday 22nd April 2022 | Easter Break |
| Monday 25th April 2022 | Students return to school |
| Monday 25th April – Friday 29th April | Year 11 Spanish Speaking Exam |
| Monday 2nd May | May Day bank holiday (School closed to all students) |
| Tuesday 3rd May – Friday 6th May | Year 11 French Speaking Exam |
| Wednesday 4th May | Year 8 Parents Consultation Evening (Virtual) |
| Monday 9th May | Year 13 French & Spanish Speaking Exams |
| Monday 16th May | Start of External Exams |
| Wednesday 25th May | Year 8 HPV Vaccinations |
| Monday 30th May – Friday 3rd June | May Half term Holiday (School Closed) |
Exams
We share lots of information on the exams section of the school website:
Please CLICK HERE to view
PROGRESS EXAM DATES 2021-2022
Please note Progress exam dates may be subject to change.
Year 12 Progress Exams
W/C 10th June
Year 10 Trial Exams
W/C 27th June (English and Maths – TBC)
All progress exams timetables will be made available on the exams section of the school website closer to the time. Please click here: PROGRESS EXAMS
SUMMER EXAMS 2022
GCSE AND GCE EXTERNAL EXAM DATES
Monday 16th May – Wednesday 29th June 2022
Summer Exam Timetable 2022
The master summer exam timetable is available by clicking on this link Summer Exams 2022
Personalised timetables have now been handed out. Please ensure personal details (LEGAL NAME, DATE OF BIRTH) and the list of exam entries are checked, any student with a query should email exams@arthurterry.bham.sch.uk
Any change to personal details notified to us AFTER the certificates have been prepared by the exam boards will result in you being charged for replacements.
Exam Clashes
Please note students with a clash of exams that exceed 3 hours in the same session will need to speak to the exams officer as there may be a change to their timetable. Any students with a clash of exams that total 3 hours or less will sit their exams in the same session.
All examinations must be taken at the time and date allocated.
EXAM RULES AND REGULATIONS
All external and trial exams are conducted according to the procedures set out by the Examination Boards and the Joint Council for Qualification (JCQ). A copy of the JCQ guidelines can be found here: JCQ Exam Notices
Please ensure your child is familiar with the regulations in particular the following document: Information for Candidates – Written Examinations
The following devices are banned in the exam hall:
Mobile phones
Headphones
Watches
Any other technological devices or web enabled sources of information.
Revision Material/Notes
Other items not permitted in the exam room include food, fizzy and coloured drinks. Students are also, not expected to leave the exam room to use the toilet during individual exams. If necessary, water can be brought in a clear, unlabelled bottle, which should be kept under the exam desk.
All students sitting examinations will be required to wear their school uniform. Sixth formers will also need to wear smart business dress and have their school ID badge on at all times.
It is important that the regulations outlined by the exam boards and JCQ are adhered as failure to do so can result in disqualification from the examination and the overall qualification. Therefore, we would ask for your support to ensure your child is fully prepared for their external and trial examinations.
EXAM CONTINGENCY DAY
The Joint Council for Qualifications (JCQ) have announced a contingency day for the summer exams series 2022. The date that has been set aside as the 'contingency day' is WEDNESDAY 29TH JUNE 2022.
The contingency day for ALL external examinations has been put in place "in the event of widespread, sustained national or local disruption to examination during the June 2022 examination series"
Therefore, in the event of a major disruption, JCQ and/or the relevant Awarding Bodies may decide to postpone an exam to another date in the June 2022 exam series. This means that any students sitting external examinations in June 2022 must be available up until Wednesday 29th June to sit any exams that had to be postponed.
EXAM EQUIPMENT CHECKLIST
Ensure your child arrives fully equipped for their exams. Equipment needs to be in a see through plastic bag or transparent pencil case.
ESSENTIAL ITEMS
Black ink or ball point pens (no gel pens or blue ink are permitted)
Pencil
Pencil sharpener
Rubber
Ruler
ADDITIONAL ITEMS THAT MAY BE REQUIRED DEPENDANT ON EXAM
Calculator (lids must be removed)
Coloured pencils
Pair of compasses
Protractor
Set square
OPTIONAL ITEMS
Highlighter pen (to highlight text in the question paper only – cannot be used in answer books)
EXAM RESULTS DAY
GCE AS/A Level – Thursday 18 August 2022 – TBC
GCSE – Thursday 25 August 2022 – TBC
Students unable to collect results can nominate someone to collect on their behalf. Email consent must be sent from the students email address to exams@arthurterry.bham.sch.uk before results day. Please note due to GDPR written consent will not be accepted.
POST RESULTS
When results are released some students may want to make an enquiry about results or request an examination script back. Please note there is a fee for a post results service.
The following services are available:
Service 1: Clerical Check (RoR1)
Service 2P: Priority Review of Marking (RoR2P) A Level students ONLY
Service 2: Review of Marking (RoR2)
Access to Scripts
Further information on each service, fees and deadlines will be published in July on the school website.
CERTIFICATES: SUMMER 2020 AND 2021
CURRENT STUDENTS
Summer 2020 and 2021 certificates are now available for collection. Current students can collect their certificates from reception at the end of the school day.
Once you have received your certificates, please check your personal details and the grades. If your grade has changed through a review of marking this may not be corrected on your certificates.
Please note if your personal details (legal name, DOB) is incorrect you will be charged the exam board fee for a replacement certificate.
SCHOOL LEAVERS Please email the exams team at exams@arthurterry.bham.sch.uk to arrange a suitable time to collect your certificates.
Exam Invigilator Vacancy
We are currently recruiting for exam invigilators to help support during the exam season. If you are interested, please Click Here.
Attendance information
To see our attendance policy, CLICK HERE
Parental letters and links
CLICK HERE to view parental letters
CLICK HERE to view the Arthur Terry Safeguarding Newsletter
CLICK HERE for events and activities to keep you and your family entertained, fit and healthy through the school holidays!
Emotion Coaching
As you are aware, emotion coaching underpins our behaviour management at Arthur Terry. We have a dedicated section on the Parent tab of our website which explains our philosophy and the psychology behind it. We would encourage you to explore the information by clicking on this link:
Wellbeing
The school website has a new Wellbeing area, under the Students tab. Our school aims to offer a learning environment that consistently promotes and enhances positive mental health and emotional wellbeing.
We hope that the information provided on the site enables all students, parents and other members of the school community to access to a wide range of helpful services, websites, apps and other forms of information to support and improve wellbeing. CLICK HERE to visit.
Spring Term News
Between Monday 7th – Friday 11th March, Arthur Terry delivered a, 'Where can X take you?' campaign, as part of National Careers Week 2022.
For each of the twenty-two subjects offered across the school, an interactive poster was developed, showcasing myriad careers associated with each subject specialty.
In all, three hundred career roles were showcased. Students explored these posters during both form time and during 'ten minute lesson take-overs'.
The aim of the project was to encourage our students to explore the great diversity of roles out there in the world of work.
National Careers Week may have come to an end but the posters remain displayed in school and can be accessed electronically via:
A huge thanks to Mrs Gibbs, many student leaders, student and teacher subject ambassadors for all their collective hard work in developing the posters.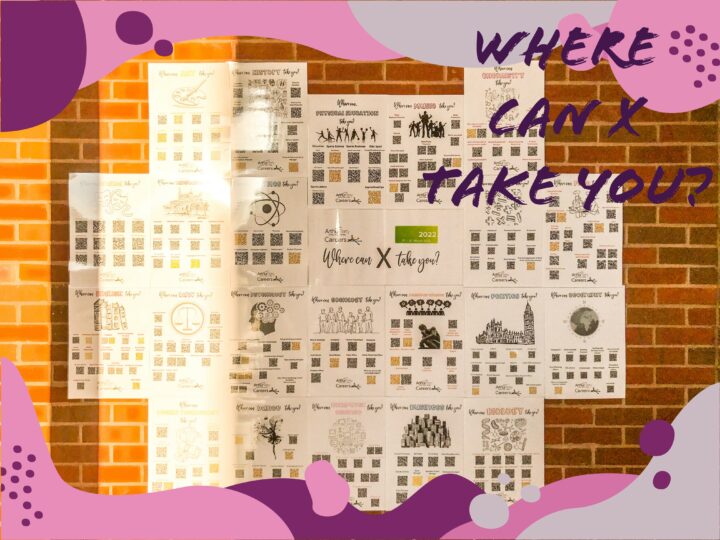 Year 9 figures inspired by Tim Burton!
Students learnt how to make a wire armature, then added plaster bandage and air-drying clay to recreate their character designs.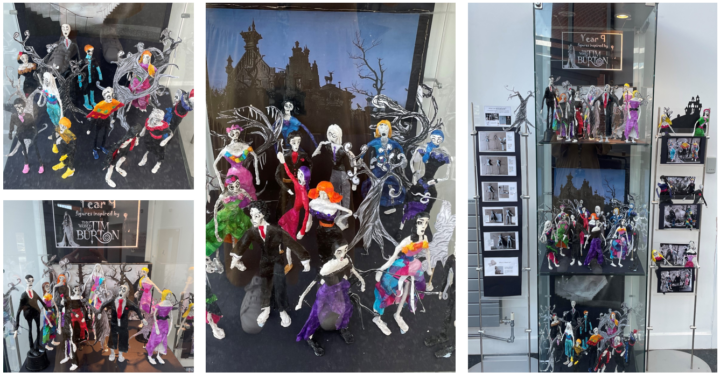 Well done to our 30 year 7 and 8 students who 'rose' to the challenge of building their spaghetti towers during yesterday's STEM club. They has so much fun and the designs were amazing! Here are the 1st and 2nd prize towers!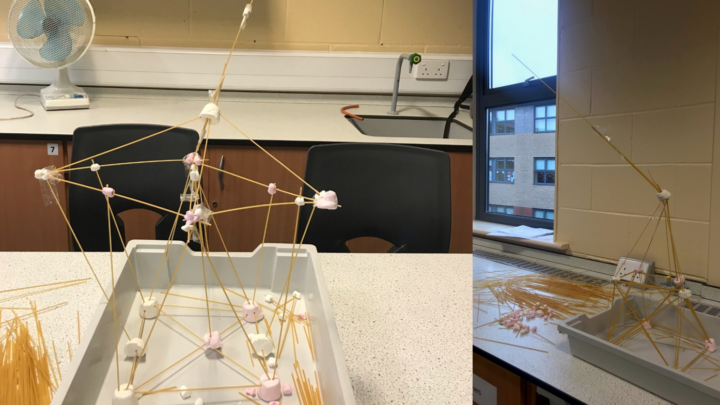 West Midlands Police Knife Arch
The Arthur Terry School would like to thank West Midlands Police who came into school and used a knife-arch to screen students. We would also like to thank our students who were so mature and a real credit to the school. We are delighted to report that no weapons were found!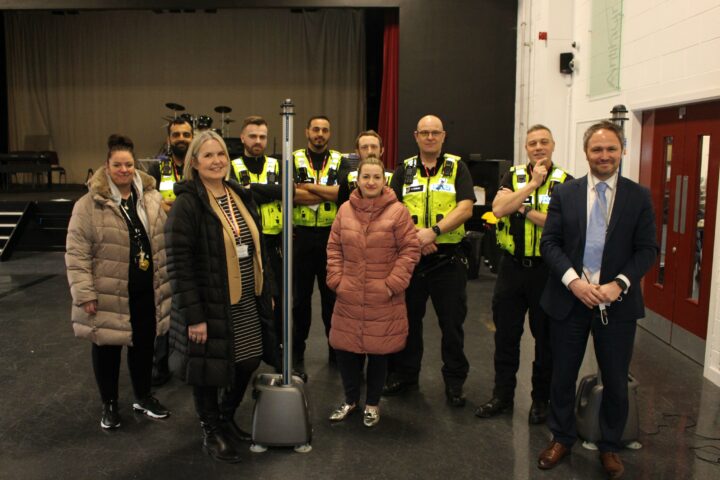 World Book Day
We loved the variety and creativeness of the costumes that our staff donned for World Book Day! They all looked wonderful!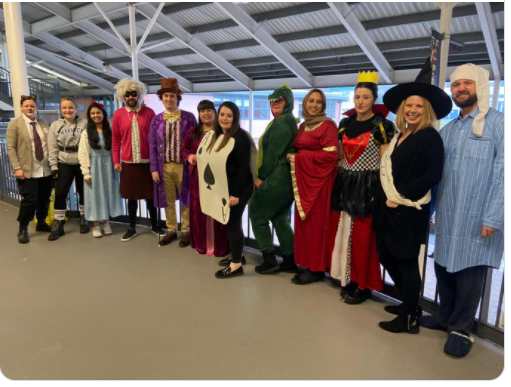 Performing Arts & PE
Year 9's have been working hard to gain their qualification as Level 2 Sport Leaders. They have been attending after school enrichment sessions every week and they are growing in confidence as young leaders.
So far, they have all completed and passed their first practical assessment and are working towards planning and delivering a sports festival to our partnership primary schools.
We have some future sports leaders in the making!
Our Level 2 Sports leaders that graduated last year have been continuing to support the department and develop their leadership skills. Special mention to Rhiannon, Mante, Ethan and Sidnie who have supported in handball, leadership and cricket.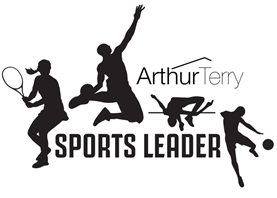 Alternative Sports Athletics' Competition
Arthur Terry came in at a very respectable 2nd place out of 6 senior schools who were competing in the alternative sports athletics' competition on Thursday 10th March at the Doug Ellis Centre in Nechells. A fabulous time was had by all!
North Birmingham Sports Athletics Competition
Huge congratulations to our Y7 and Y8 girls who performed brilliantly at the North Birmingham sports hall athletics competition! The Y7 girls finished 2nd place and the Y8 team took 1st place. Well done to all the girls!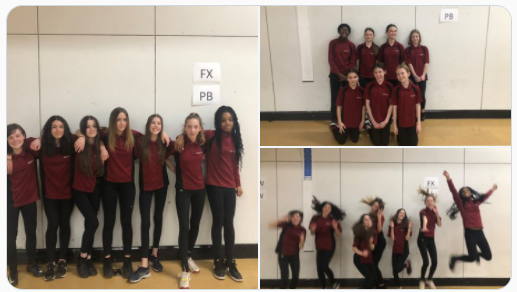 Huge congratulations to our Y7 and Y8 boys who were both crowned North Birmingham sports hall athletics champions!

KS3 Athletics teams
We are delighted to feedback some great news/results for our KS3 Athletics teams, who took part in the Birmingham Schools Games Finals for Sports Hall Athletics. The event was held at the University of Birmingham Sports and Fitness Centre.
We had three teams from Arthur Terry competing at the event, Y7 boys, Y8 boys and Y8 girls – who had all progressed to the finals after winning their Sutton Schools Regional Championships earlier this year.
At the event, 11 teams/regions of Birmingham were being represented in each age group competition, making 44 teams; and approximately 350 Y7/8 student participants in total. Only 2 other schools in the whole of Birmingham managed to have more than one team qualify for the event, which was a great testament to our regional performances and having X3 qualifying teams!
Throughout the event – our students once again performed superbly well! They were a real credit to the school and pleasure to take out for the day. The results ceremony at the end of the competition was quite exciting; the scores for each team/competition were called out in reverse order… leaving the top 3 standing to wait and see what the final results would be!
The final placings for our teams were as follows:
Year 7 Boys – 1st Place – Birmingham Schools Champions!!
Year 8 Boys – 3rd Place
Year 8 Girls – 3rd Place
To have all three teams finish on the podium and medal on the day was fantastic; and our Y7 boys claiming the top finish overall was of course a very notable achievement!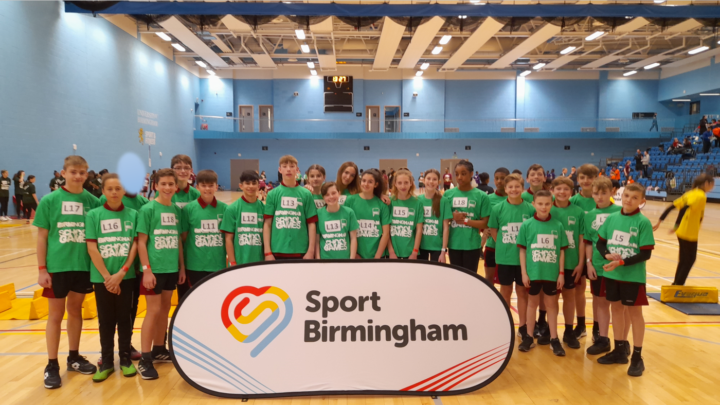 District Cup Football + Super Cup Final
We're delighted to say that our Y9 boys football team were crowned Erdington, Saltley and Sutton Coldfield schools district cup football champions yesterday, following a resounding 8-0 victory against Greenwood Academy! The team remain undefeated for this season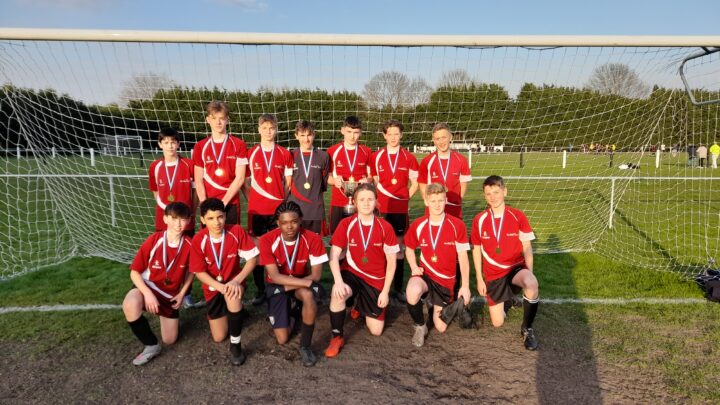 Congratulations to our Year 7 boys football team who were crowned champions of the District Cup following a 6-2 win over Greenwood Academy!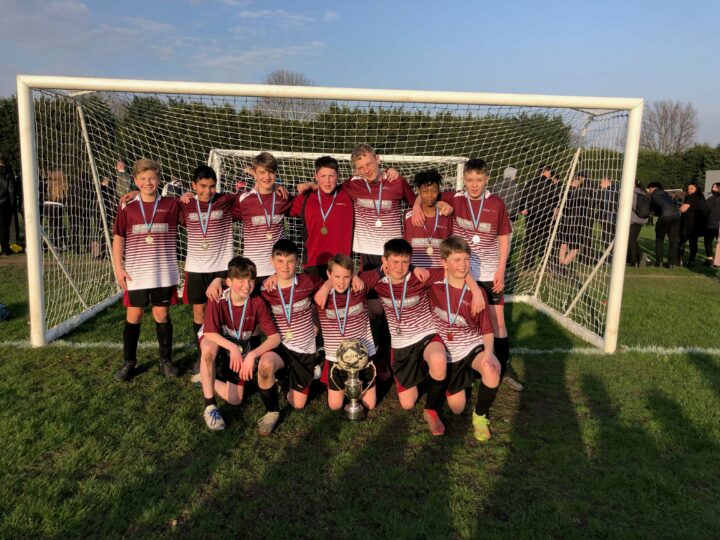 Year 7 boys football team won the Super Cup Final (Cup Winners Cup) on Friday against Handsworth Grammar Boys at Bodymoor Heath Training Ground. We came out on top winning 5-2, scoring two quick goals in the final minutes to end Handsworth's revival.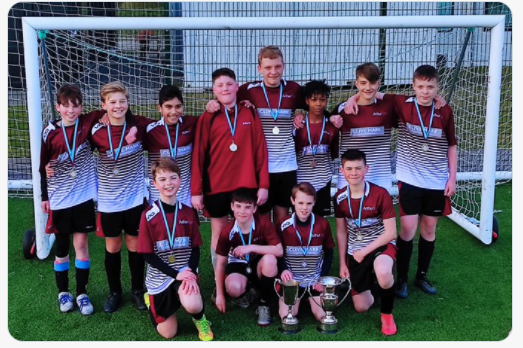 National Handball Tournament
More great PE news!
This week we attended the national handball tournament for the first time (pre regional round).
We took 34 students in total (some that had never represented Arthur Terry in a sporting event before).
We had representation from U13 and U15 boys and girls.
I am pleased to announce that both our U13 girls and U15 girls handball teams have qualified for the next round next month in Gloucester.
All the students represented the school brilliantly!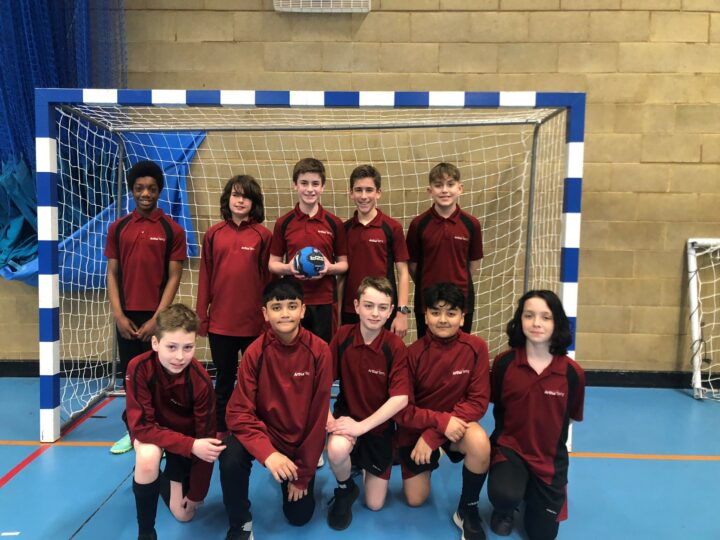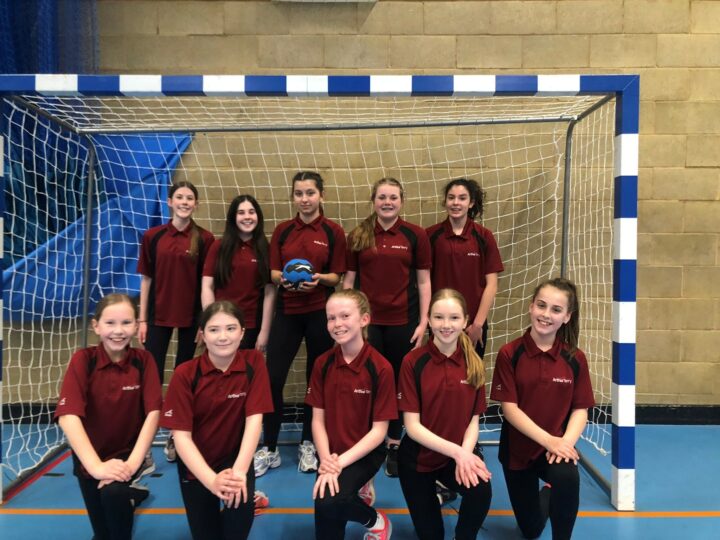 Visit from Chris Bradford – Samurai Warrior and Bestselling Author 14th March 2022
Have you ever thought about being a Samurai warrior? Well, the bestselling author Chris Bradford didn't just think about it, he did it. A fabulous morning was enjoyed by Year 7 students when Chris is best known for his Young Samurai, Soul Hunters and Bodyguard series of books, came into school as part of the Library's World Book Day program of events to talk about his books, life and inspire Year 7 students to read.
To understand the world of the Samurai warrior and make his books as authentic as possible he trained in the art of iaido (swordship), and is a black belt in numerous martial arts and a qualified close-protection officer. His lively, fun, and interactive display of Samurai skills, and discussion of his books really fired the imagination of all. Students had a chance to chat to Chris, buy copies of his books and get them personally signed. Students were engaged and visibly interested! It was a morning that will forever be remembered by all!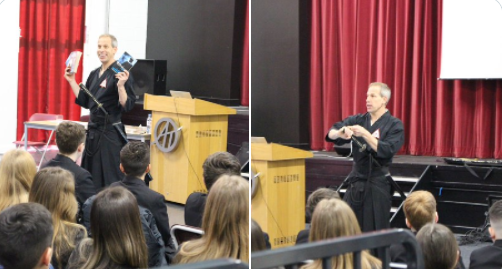 International Womens Day 2022
In honour of International Women's Day, some of our fabulous young women performed a flash mob during lunchtime. Well done to all the girls for a brilliant performance and our sixth form dance leaders for their excellent choreography'.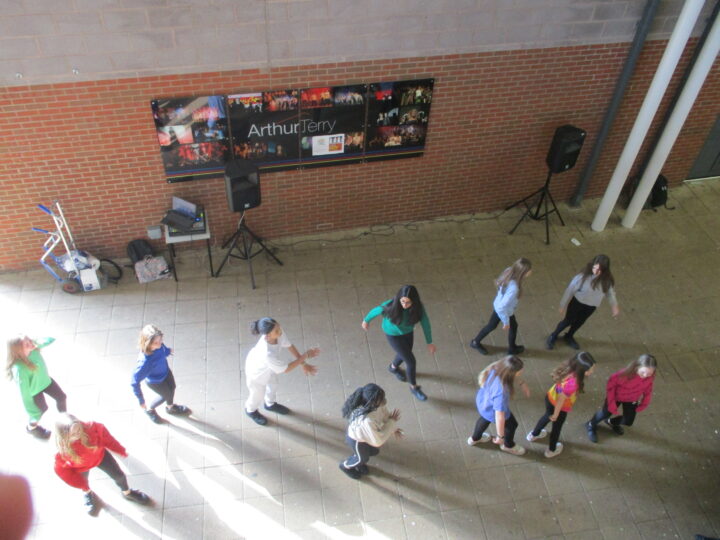 Charity & Fundraising
Children's Mental Health Week
Thank you for your continued support with our in-school charity fundraisers! We were able to raise £154.50 in total for Childline in support of Place2Be's Children's Mental Health Week! Mrs Aston, Mr Ellis and Mrs Gregory were supporting #childrensmentalhealthweek2022 by wearing bright coloured socks! A fantastic effort, for a fantastic cause!
We wore brightly coloured socks to represent our individuality and celebrate our differences whilst also being part of a community which 'grows together' and supports each other's mental health and wellbeing.
7B3 have created this lovely display, with the theme being 'Kindness' during tutor time as part of Children's Mental health Week. It looks fantastic!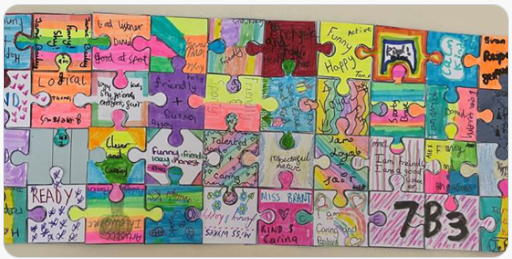 Supporting Macmillan Cancer
Over the course of this term, we have done immense work to support Macmillan Cancer through various fundraising activities and events. We are immensely proud to say the school raised a phenomenal £6,977.73 to support the charity! A huge thank you yo everyone who donated; below is an example of how this money will be used by Macmillan Cancer Support.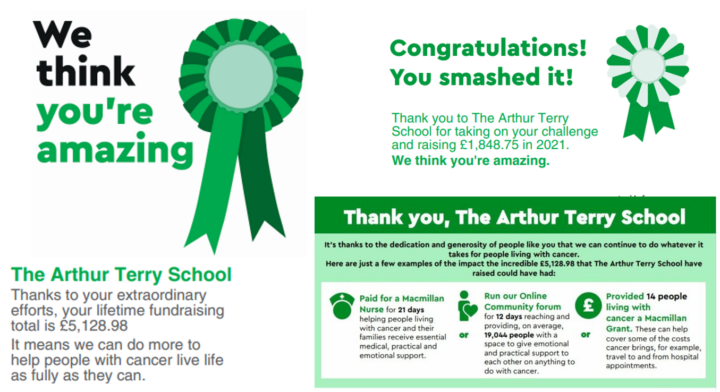 Comic Relief
To celebrate Comic Relief on Friday 18th March, we held a Non-uniform day in school for all staff and students, with donations being collected via ParnetPay. We raised a £995.00, which was a great effort by all. Thank you for all your donations this year as we support Comic Relief for another year!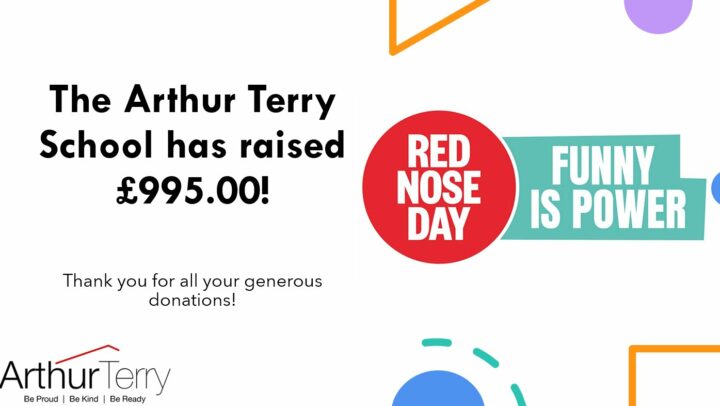 Ukraine Donation Appeal
We are very proud to provide @feedthehungryuk and Coventry foodbank with supplies our students and parents have donated which the @BritishRedCross and @UNICEF have identified as being essential to help communities being affected by the crisis in Ukraine. The charity were pleasantly overwhelmed when they came to collect the donations and were shocked to see how much the school collected! A massive thank you to everyone!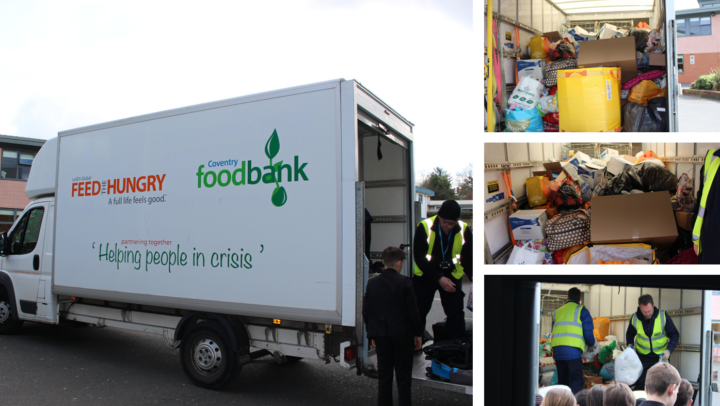 See what students are 'cooking' up in Food Prep!
Excellent skills shown in Year 7 lessons when making ratatouille!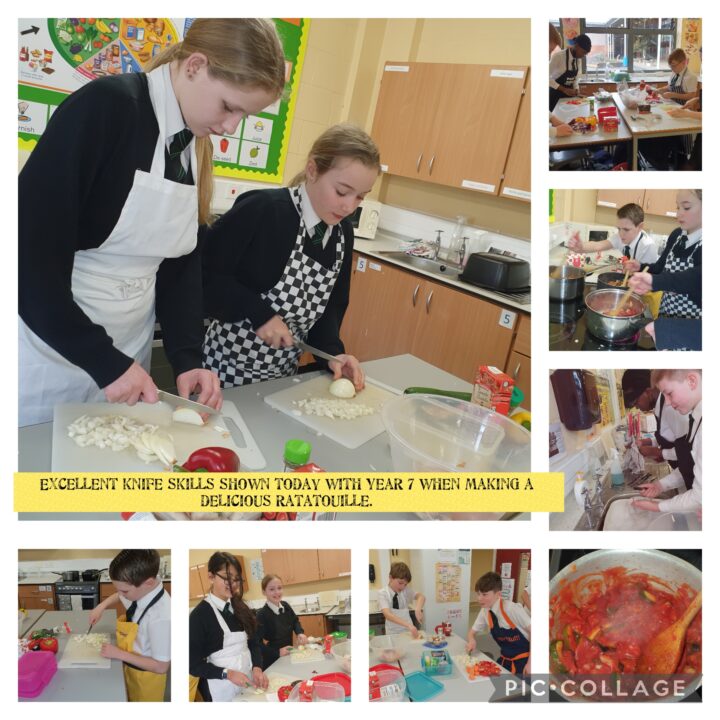 Year 8 have been pracisting their dough making skills. They have producded some amazing Pizzas! Delizioso!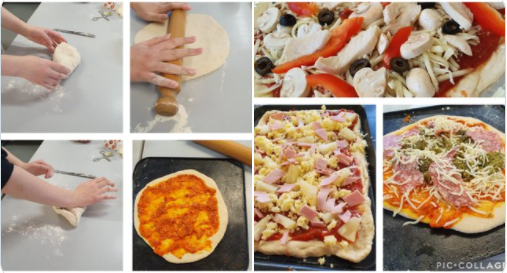 Year 10 students have been creating meals to target a deficiency in Iron; they definitely met the brief well! Well done Year 10!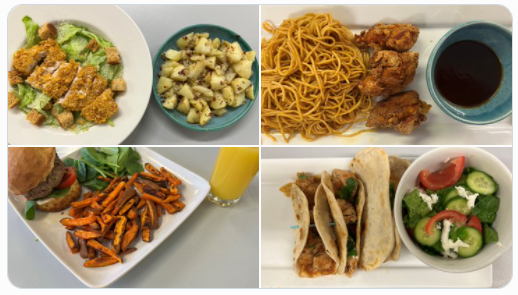 Sixth Form
Attendance Success
Well done to all our Year 12 & Year 13 students, they have shown a real commitment to both the school & their studies by consistently being on time to school, with only 0.9% of students being late.Great attendance is a prerequisite to effective learning & our sixth form students are working hard to exceed expectations with 20 of our students achieving 100% attendance.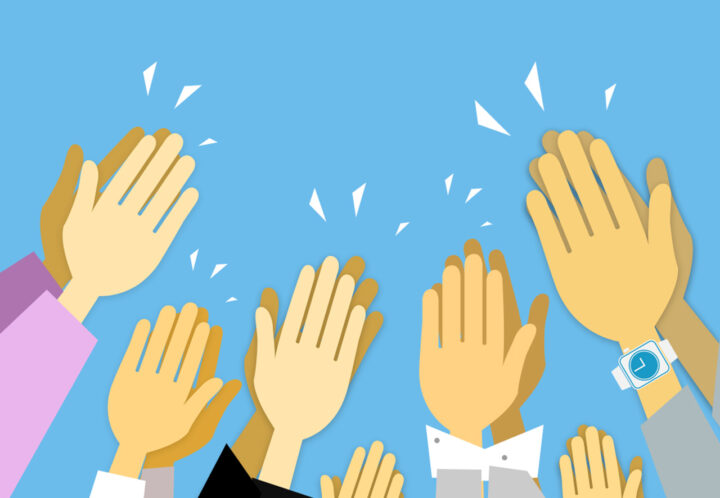 A Level Drama
GCSE and A Level Drama Students visited The Alexandra theatre watching the Lion, Witch and The Wardrobe, and The Curious Incident of the Dog in the Night-time. It was great to be back in the theatre since the pandemic. A Fantastic show!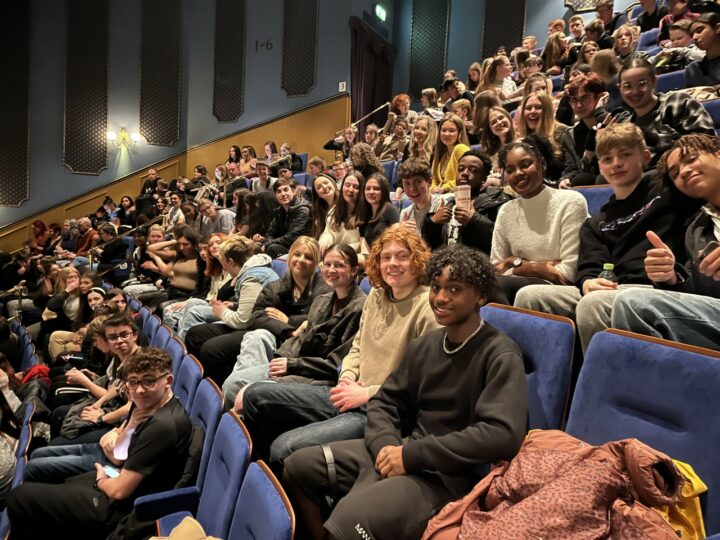 Politics
Politics A Level students took part in Big Questions: Ukraine, a live online event with Bridget Kendall (Ex-BBC Diplomatic Correspondent and Russia expert), where they learned more about the causes of the crisis in Ukraine and the implications of Russia's actions.
'Jan Slam'
Students across Year 12 and 13 took part in the inaugural Arthur Terry Sixth Form 'Jan Slam!' event, this January. Students had the chance to win big prizes, which were based on praise point accumulation, attendance and teacher nominations, such as Pizza Parties! Well done to all our winners across the month, it was great to see everybody across the sixth form getting involved.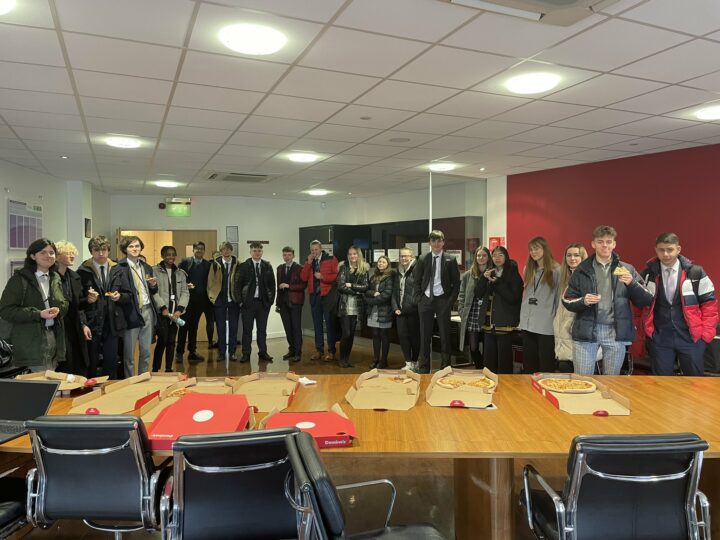 West Midlands Fire Service visit
We had a visit from West Midlands Fire Service visit to record a visual cycling and road safety podcast with five of our Sixth Form students. A big thank you to all involved! It was a great experience and everybody did a fantastic job!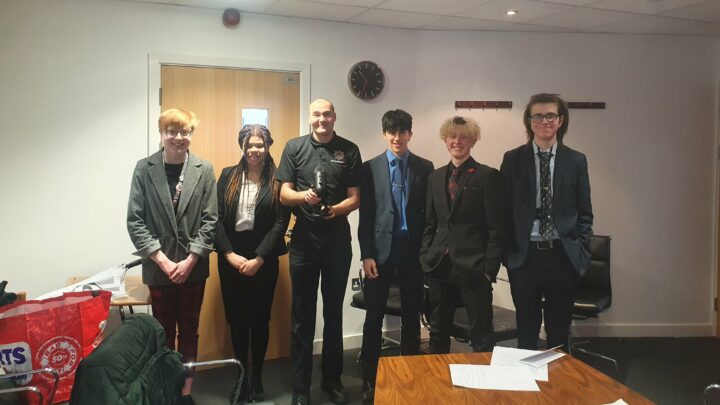 Some wonderful, thought provoking pieces of Year 13 artwork now on display in the Sixth Form Centre. We are proud to have such talented artists in our Sixth Form.