Newsletter
Thursday 21st July, 2022
Dear parents/carers,
As we move closer to the end of term, on behalf of the Leadership Group and all the staff here at
Arthur Terry, we would like to thank all our parents and carers for their continued support.
It has been wonderful to open our doors to the wider school community with the success of our
recent open event. We hope that you found it useful and enjoyed walking around the school site.
The students were an absolute credit to the school and as always, conducted themselves in an
exemplary manner whilst promoting the school values of Be Proud-Be Kind-Be Ready.
As many of you may have noticed, our PTA were on hand to provide refreshments during the
evening, and they managed to raise nearly £200 so thank you to everyone who supported them.
Your donations to the school fund enable us to fund the praise events and provide items such as
table tennis tables and additional seating for students; all of this is welcomed by our students and
championed by our Senior School Leaders. Please continue to support the school through this fund
so we can offer as many opportunities as possible. More information will follow in September in
relation to School Fund and how you can contribute.
During this half-term we also said goodbye to our Year 11 and Year 13 students. We look forward to
seeing them on their results days and wish them well for the future. We also welcomed our new
Year 7 cohort for their Induction Day. They had a very busy day exploring what life is like to be an
Arthur Terry student and we cannot wait for them to start in September.
On that note, please see below the arrangements for the end of the summer term and the start of
term in September: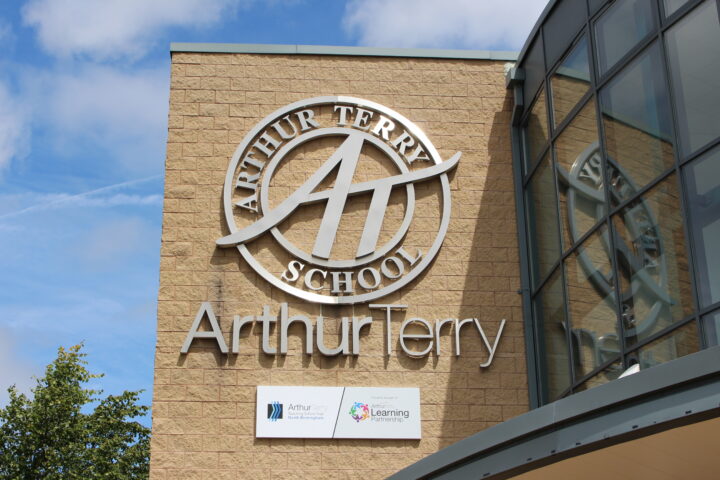 Lower School Uniform
To save added costs to parents, ties will now continue on a rolling basis, so the colour tie a student
starts with in Year 7 will remain with them until they reach Year 10. For our September 2022 intake
the tie will be yellow.

| | |
| --- | --- |
| Year Group | Colour of Tie |
| 7 | Yellow |
| 8 | Green |
| 9 | Red |
| 10 | Blue |
The grey sweatshirts and white polo shirts for Year 11 now have a new logo, which matches the
current logo on blazers and school skirts.
For the most up to date uniform list, please Click Here.
Information for parents about the school curriculum
We wanted to take this opportunity to share with you some important information about the
curriculum. We have a three-year Key Stage Three programme that is rooted in the national
curriculum which is viewed as a rigorous, broad and challenging curriculum that prepares learners
well for which ever future career path they choose. We extend the national curriculum offering in
Year 9 by also offering one lesson a fortnight of business studies which serves to provide all students
with some contextual knowledge of the business world.
You can find out information about the subject content that subjects cover in the curriculum section
of the website. (Subjects – The Arthur Terry School) This will be updated every September to reflect
any changes that occur. In the subject summaries you will find information about content taught and
how the students are assessed.
In addition to this you can also find out information about our excellent Personal Development
programme (Personal Development – The Arthur Terry School). We are incredibly proud of the
offering that students benefit from which is mainly delivered through Personal Development
lessons, tutor sessions and the assembly programme.
Summer Break
The school site will be fully closed over the summer break except for A 'level and GCSE results days.
During this period, the school will not be able to receive visitors or respond to communications from
parents or students.
Finally, we would like to wish you all a lovely summer and we look forward to welcoming students
back in September.
Yours sincerely,
The Leadership Group
Autumn Term 2022 Diary
Thursday 21st July 2022
Students break up for Summer Holidays
Monday 5th September 2022
Teacher Training Day (School Closed To All Students)
Tuesday 6th September 2022
Teacher Training Day (School Closed To All Students)
Wednesday 7th September 2022
Induction Day. Year 7 and Year 12 return to school
Thursday 8th September 2022
All Year Groups In School
Tuesday 13th September 2022
Year 12 Photographs
Wednesday 14th September 2022
Year 7 Photographs
Thursday 15th September 2022
Re-arranged Year 12 Parents Evening (postponed from July 2022)
Thursday 29th September 2022
Arthur Terry Open Evening 6-8 pm
Friday 30th September 2022
Sixth Form Applications Open
Thursday 13th October 2022
Y11 Information Event
Thursday 20th October 2022
Year 7 Halloween Disco 5.30 – 7pm
Students break up for Half Term
Friday 21st October 2022
Teacher Training Day (School Closed To All Students)
Monday 24th October to Friday 28th October
Half Term
Exams
For information on Year 10 Results Day, CLICK HERE
For information on Year 11 Results Day, CLICK HERE
For information on Year 12-13 Results Day, CLICK HERE
Attendance information
Lateness – Did you know that being 15 minutes late each day is the same as missing two weeks of school over the year. Lateness is just as serious as nonattendance and could also lead to a Fixed Penalty Notice. The start of the school day is an important time, where key information is shared with students, as well as preparing them for their learning. All students must be at school for 8.45am.
Did you know that every day of school missed by a pupil it will reduce their attendance by 0.5%. Ten whole days of school has been missed if your child has 95% attendance. Twenty whole days of school has been missed if a pupil's attendance is 90%. By the time a pupil is persistently absent (85% attendance) they have missed 6 weeks or half a term of schooling.
| | | |
| --- | --- | --- |
| Days Absent By End of Year | Equal to Absence Percentage | Overall Attendance Percentage by the End of Year |
| 1 | 0.50% | 99.50% |
| 5 | 2.50% | 97.50% |
| 10 | 5% | 95% |
| 20 | 10% | 90% |
| 30 | 15% | 85% |
Illness – We know that illness is unavoidable and to be expected. However, it is very important to inform the school that your child will be absent, please report this by texting 078600 54015, this should be done before 8.30am. Please note this number does not except multimedia messages.
Term Time Holidays – Over the course of a year, your child only attends school for 190 days out of 365. This leaves 175 days for holidays. Please book your holidays during these 175 days of school holidays. If you do take your child on holiday during term time, you may be at risk of receiving a Fixed Term Penalty Notice.
You may be aware that in September 2023, the Government plan to introduce changes to improve school attendance, it is therefore important to remind all parent's the law states that your child must attend school on every occasion that it is open unless there is a reason that enables the Head Teacher to authorise the absence under the Regulation. The law also states that it is parents' responsibility to ensure their child attends school regularly
To see our attendance policy, CLICK HERE
Parental letters and links
CLICK HERE to view parental letters
CLICK HERE to view the Arthur Terry Safeguarding Newsletter
Wellbeing
The school website has a new Wellbeing area, under the Students tab. Our school aims to offer a learning environment that consistently promotes and enhances positive mental health and emotional wellbeing.
We hope that the information provided on the site enables all students, parents and other members of the school community to access to a wide range of helpful services, websites, apps and other forms of information to support and improve wellbeing. CLICK HERE to visit.
SEN Passes
SEN passes will be reviewed in September, to support the needs of our students. New passes to those students with SEN or medical needs will be issued accordingly.
Passes that are currently in circulation will no longer be valid.
Whole School News
With this academic year coming to a close, it is with fond memories, full hearts, and a huge sense of pride that we look back on all the wonderful moments that we have shared as a school community.
Having recently celebrated the return of Year 11 and Year 13 prom, in addition to being finally able to open our doors with a warm welcome to parents for opening evening, the last few months especially have felt as though our school community has returned to the vibrant and thriving environment that it has always been something that we sorely missed during the pandemic.
With our Year 11 and Year 13 students having completed their exams, we await eagerly the news of their anticipated successes over the Summer and shall look forward to our new Year 7 and Year 12 intake at the start of September.
Aside from the academic triumphs, we have as usual, been exceptionally busy with a wealth of extra-curricular activities that have been offered during this Summer term as part of our enrichment programme. With clubs such as Green Power going strong, Circus Skills thriving, we have also welcomed new clubs such as The Gardening Committee who have worked exceptionally hard in our memorial garden as part of the Royal Horticultural Society's Programme for School Spaces.
As always, as a school – as a community, we would very much like to thank and acknowledge your continued support for a range of fundraising events which have been held in school. Having been recognised as a leading school contributor to Macmillan Cancer Support, having contributed an exceptional amount of donations to our Emergency Ukraine Appeal, Hope Foodbank and other charitable events to excellent causes such Save The Children, Comic Relief to name a few, we want to express our gratitude and appreciation for your support throughout.
In September we shall look forward to continuing to plan more events with our existing linked charities and welcome the new relationships we have formed with others such as UK Sepsis Trust who we will be working with to raise funds and spread awareness this September.
With memories to treasure and achievements to take great pride in, with so much to look forward to and prepare for, we thank you as always for your continued kindness and immeasurable support.
Sincerely,
Hayley Harding
Lead for Charity and Community at The Arthur Terry School.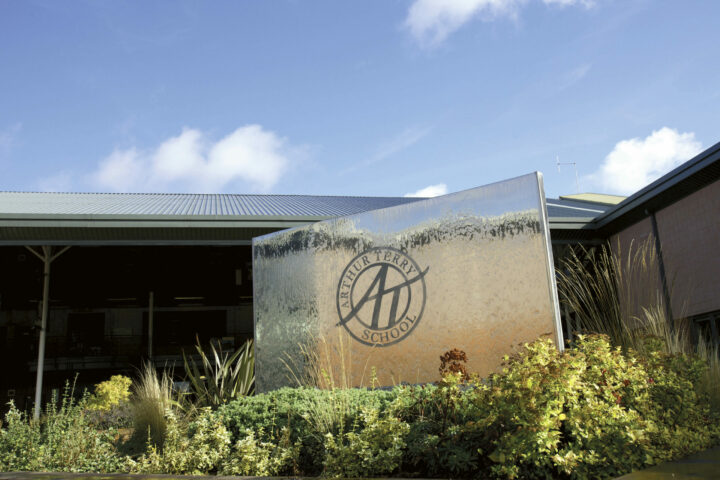 Year 11 Leavers
On behalf of everyone at #ArthurTerrySchool, we wish all our Year 11 students the best of luck for the future; it was a pleasure to teach you throughout the years!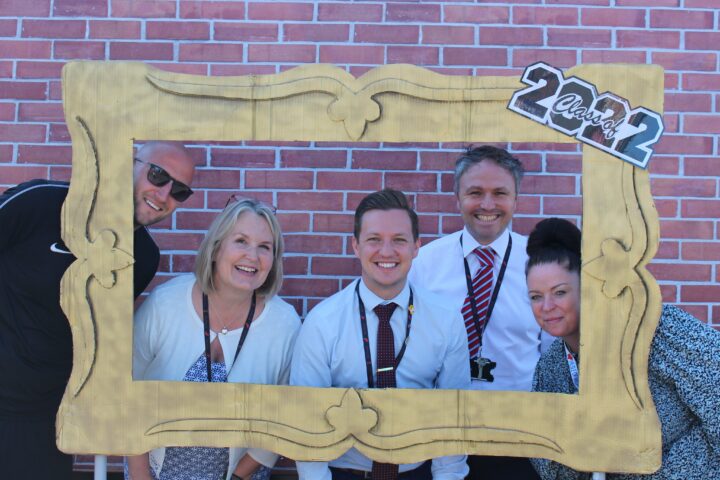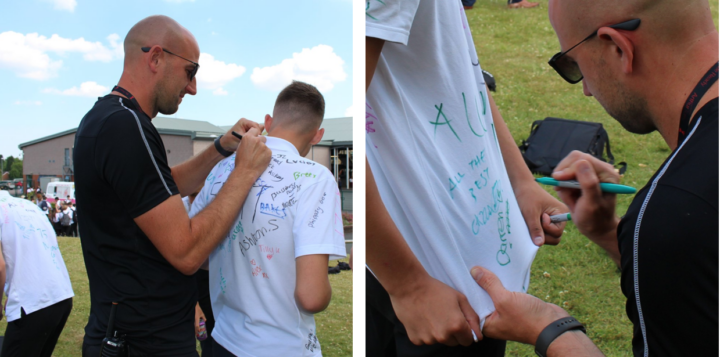 Year 6 Induction Day
We were very excited to welcome Year 6 students on their Induction Day! They all look lovely! Headteacher Mrs Kibble addressed the incoming students in the morning assembly, explaining what #ArthurTerry is all about.
Regenerate West Midlands Careers Event
Students at Sutton Coldfield's Arthur Terry School stepped into the Dragon's Den when they took part in a day-long challenge designed to build their teamwork skills.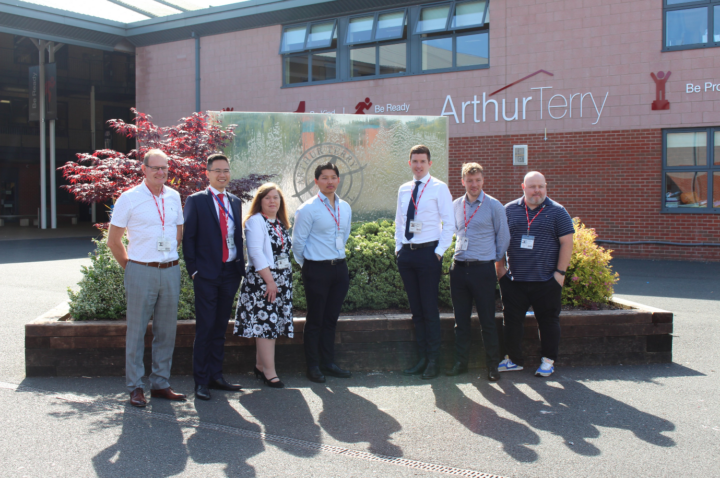 Nearly 300 Year 9 pupils at the school, which is part of the respected Arthur Terry Learning Partnership (ATLP), tackled the 'RGWM challenge', where they were tasked with producing ideas to help regenerate the West Midlands with the support of business mentors.
Lined up as 'dragons' were local businesses leaders, while the region's Mayor, Andy Street, provided a video welcome to launch the day, and promised to review their best ideas too.
Then the students were split into small groups, supported by their form tutors, and encouraged to come up with original, sustainable ideas that could improve the lives of local people.
The best group from each form then presented their project in the hall in front of the entire year 9 assembly and the assembled Dragons who chose an overall winner.
The winner was brilliant mental health project called 'mindful motors', which would combine a tour of Birmingham's most inspirational sights with access to support and advice.
Students wanted to convert a double decker bus, fitting it out with a quiet zone, advice centre, music and library to provide a mobile mental health resource that could tour the region.
Councillor Alex Yip said: "All the guests were impressed with the engagement of the students, their behaviour, and the inclusion for Special Educational Needs students was also noted.
"The winning project was a very impressive initiative to redesign a double decker tour bus for mental health support.
"It was saddening to hear how mental health was such a priority for students and how so many have struggled but had to make do."
The mentors who gave up their time were Ben Keefe of AYK Capital , David Hulson and Kal Gurung of Mott MacDonald, Dawn Hall of Jericho, Rebecca Horner of Walsall College, Brian Davies, of UK Sepsis Trust, Careers Enterprise Advisor Ken Hutchinson, Chris Brewerton of Sutton Coldfield Chamber of Commerce, Katharine Olie of Pathway CTM and Councillor Yip, who is also a Trustee on the ATLP board.
Mr Brewerton added: "We are really supportive of Arthur Terry, and it's great to be involved in encouraging the next generation of Sutton business people, as well as out chosen charity UK Sepsis Trust, who are also taking part."
The Trust's Brian Davies said: "We were delighted to be involved because a great deal of our work is done through schools – we have a programme that raises awareness and involves 375 schools across the country. Days like this are great for helping students develop the kind of soft skills they will need in life and we're very happy to support."
Arthur Terry student Sarah tells council chiefs to support families hit by sepsis
An inspirational Arthur Terry student who had to look after her mum when she caught a life-threatening condition took her campaign for improved support to the corridors of power, when she appeared before the biggest local authority in Europe to demand urgent action.
Year 9 student Sarah Gibson took the floor at a full meeting of Birmingham City Council on Tuesday, July 12 to ask a question about support for families who are affected by Sepsis, which struck down her mum Ali in 2019.
Sarah, who was just 11 years old at the time, cared for her mum as they were not aware of the support that was available to families in their situation.
Sepsis is the body's over-reaction to an infection or injury, which causes the immune system to attack its own organs and tissues. It affects 245,000 people every year in the UK and is responsible for 1 in 5 deaths worldwide (11 million people).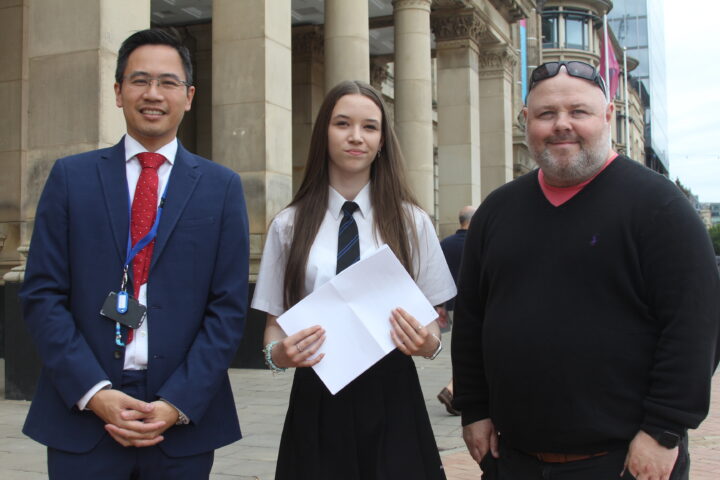 Sarah asked a question of the council's cabinet member with responsibility for Health and Social Care, Cllr Mariam Khan.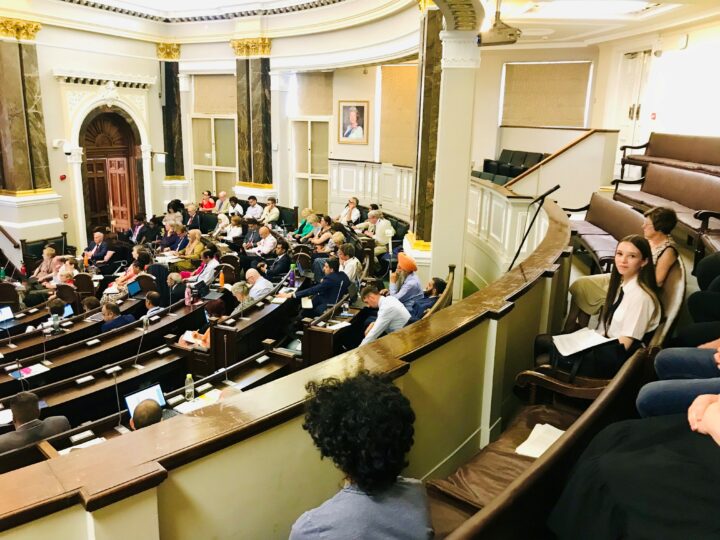 She told the council:
"I first came into contact with the serious effects of sepsis through my mum in 2019. This experience was very difficult and frightening for me as I did not know what Sepsis was. Even now, three years on, my mum is still struggling with the long-lasting effects that this condition has caused. Sepsis has led to anxiety for my mum's wellbeing. This is all because she got no support.
"Nationally, 245,000 are directly affected yearly, not to mention the family of each person like me. My mum was offered no support. I had to care for her and myself when I was only 11. This is something no child should have to suddenly and irreversibly carry the responsibility for, but thousands have no choice but to. It is vital that patients are signposted towards UK Sepsis Trust services at the hospital. Awareness for sepsis is essential to save lives and lower the death rate of some 48,000 people every year.
"Will you commit to embedding signposting towards sepsis support systems like the Sepsis Trust at hospitals across Birmingham for patients and families?"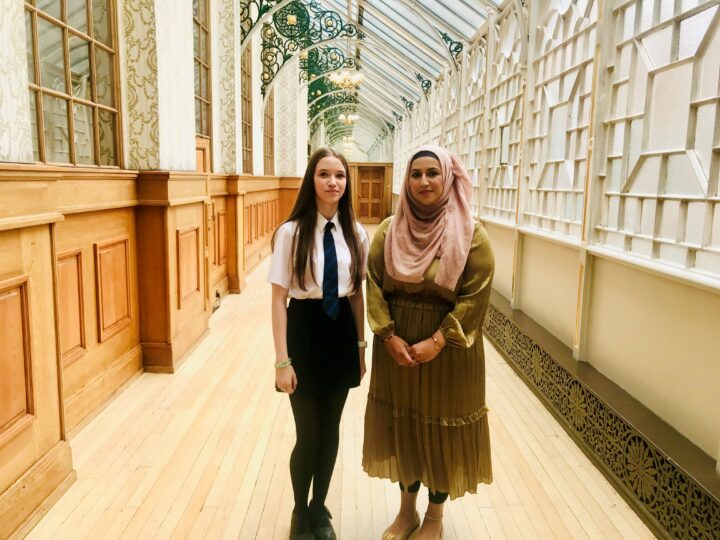 National charity the UK Sepsis Trust, which was founded in Birmingham by a doctor working at Good Hope Hospital, exists to support this hit by the condition and backed Sarah in her big moment at the council.
The Trust's Fundraising Manager Brian Davies, who accompanied Sarah to the council meeting, said he had been 'hugely impressed' by the maturity and determination she had shown in demanding action.
He said: "Sarah showed great courage and determination to speak at the council and got across her point with real conviction.
"She and her family have experience of how Sepsis can impact on lives and have long-lasting effects. The UK Sepsis Trust is is proud to provide a free, confidential and compassionate helpline service, facilitated by our dedicated team of specialist sepsis nurses.
"However, effected families often don't know about us, or aren't pointed towards us when they need support the most.
"Sarah's idea to embed signposting to help families affected by sepsis find us, and access our services and support, is a simple move that could improve the lives of so many people impacted by this terrible condition."
Sarah found out about the trust during an 'experience of the workplace' careers event at the Arthur Terry School, which is part of the respected Arthur terry Learning Partnership (ATLP), where Brian was acting as a mentor.
Another mentor at the event, ATLP Trust member Councillor Alex Yip, arranged for Sarah to ask her question at Birmingham City Council's full meeting, bringing the issue of sepsis to the attention of more than 100 elected councillors in the Second City.
Lauren Murphy, Sarah's form tutor, said: "We are so proud of Sarah and the stand she has made about this issue, which has had such an impact on not only her own family but thousands of others.
"It was a privilege to see her speak to the council and we all hope the councillors will act on the suggestion she made."
LIFE-SAVING DEVICES UNVEILED AT ARTHUR TERRY SCHOOL
Students, staff and visitors at a Sutton school will have access to potentially life-saving equipment after new defibrillators were installed across the site, thanks to generous donations.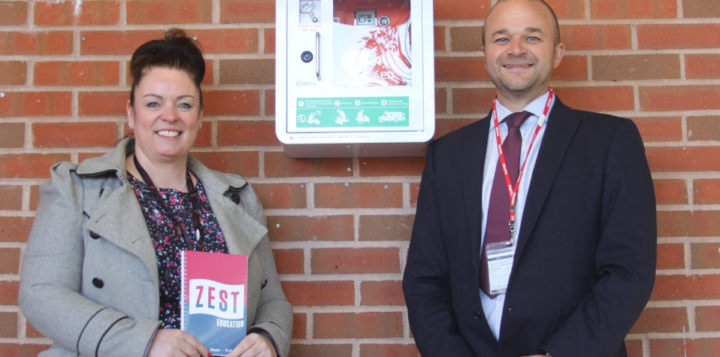 Students, staff and visitors at a Sutton school will have access to potentially life-saving equipment after new defibrillators were installed across the site, thanks to generous donations.
The Arthur Terry School, which only had one defibrillator on its large site at Kittoe Road, now has three thanks to support from teacher recruitment agency Zest Education and the school's Parents Association.
The Lichfield-based agency decided to step in and fund a defibrillator and cabinet after seeing the plight of Danish footballer Christian Eriksen, who suffered a cardiac arrest on the pitch at the Euro 2020 championships, before being revived by one of the devices.
Zest's Partnership Director Brad Johnson said: "We have had an excellent relationship with the Arthur Terry Learning Partnership for many years now, providing teaching and support staff across their network of primary and secondary schools, and helping their students with interview techniques, CV writing and fundraising events.
"So, when we were asked for help with the purchase of either a defibrillator or defibrillator storage cabinet for the Arthur Terry School, it was an easy decision to make. Zest bought and supplied both a defibrillator and the cabinet within days of being approached.
"We all hope that equipment such as this is never needed, however, as we witnessed with the case of Christian Eriksen, which highlighted just how critical a defibrillator can be. Without this level of specialist intervention at that very moment, medical officials are all in agreement that he would never have survived, much less, go on to make an unlikely return to top flight football.
Having this new addition at the Arthur Terry School, will hopefully give peace of mind to staff, students and parents, and reassure them that they now have further means to reduce or prevent serious incidents on site.
Headteacher Samantha Kibble said: "We are so grateful to Zest Education and our wonderful Parents Association for funding these new defibrillators.
"Our school covers a very large site, so having three of these life-saving devices in strategic locations will maximise their coverage, and ensure that there's always a defibrillator available when needed.
"All First Aiders on site know how to operate the defibs, however anyone in school would be able to use them as they are fully automated."
Aspire to University!
On Wednesday 20th July, 156 year 7B block Arthur Terry students visited Birmingham City University in an event titled, 'Aspire to University'. A degree is only one of several post 18 routes that we actively promote at the Arthur Terry school, with degree apprenticeships an increasingly popular alternative route.
During the trip students participated in a design your own society challenge, toured the campus, including Europe's second largest green screen multimedia room, a mock magistrates court and much besides.
The aim of the visit was to show students the scale of a higher education institution, rather like year 6's recently visited us, as their future secondary school. Students interviewed various members of BCU staff and discovered that lecturers and academics represent less than a quarter of the staff and careers that are needed to run a university.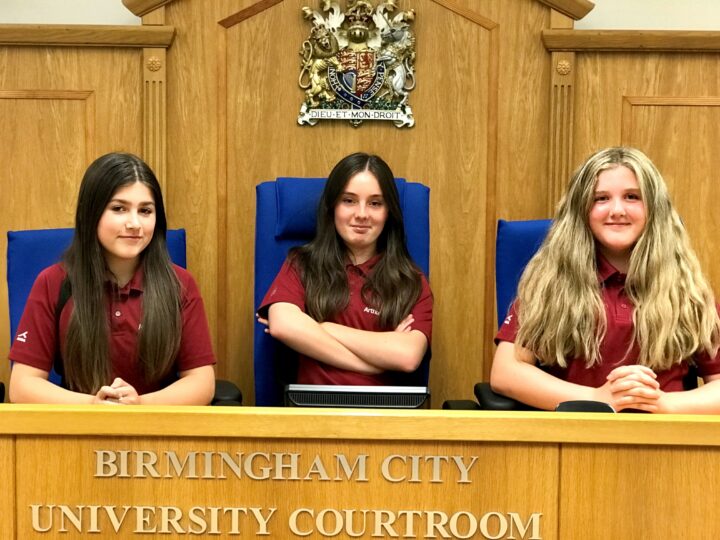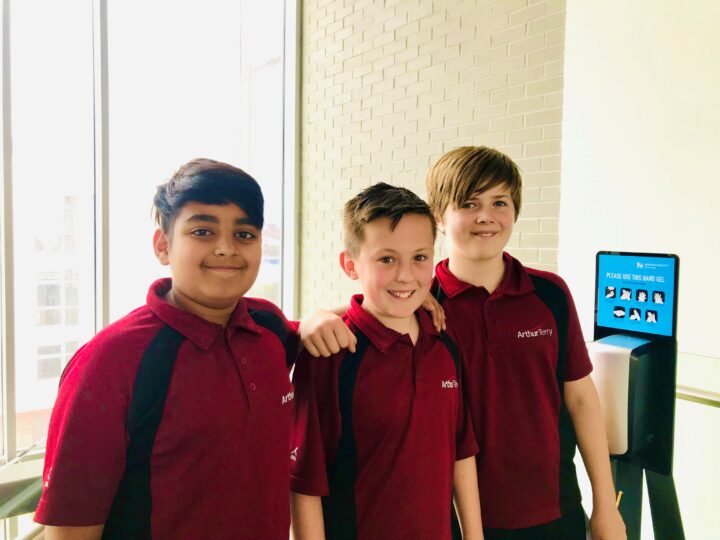 The 7A block trip will be rearranged for the next academic year following their scheduled trip falling on the UK's hottest ever day on Tuesday 19th July, which subsequently had to be postponed.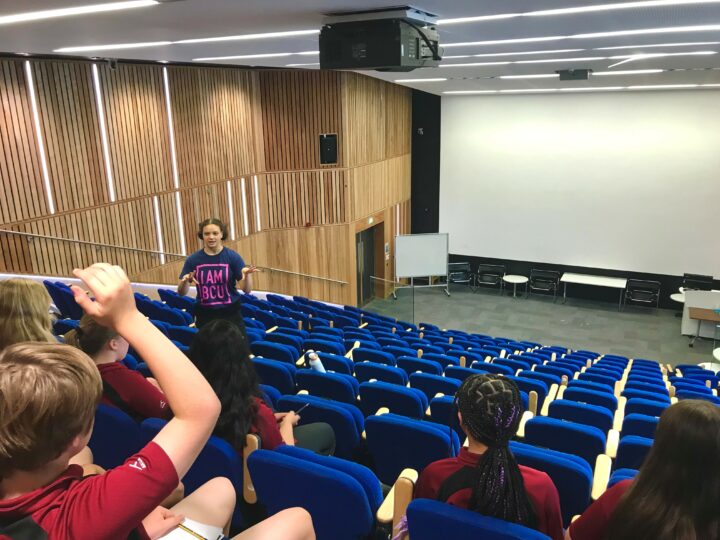 Big thanks to Sophie McMullan, Widening Participation Assistant in BCU's Marketing and Communications department who made the trip possible. It was lovely to hear from Sophie that Arthur Terry was amongst the best mannered school visitors they have received.
Year 12's get, 'Application Ready'!
On Thursday 14th July, all of year 12 took part in a Gatsby Benchmark 6, 'Experience of the workplace', titled, 'Application Ready'!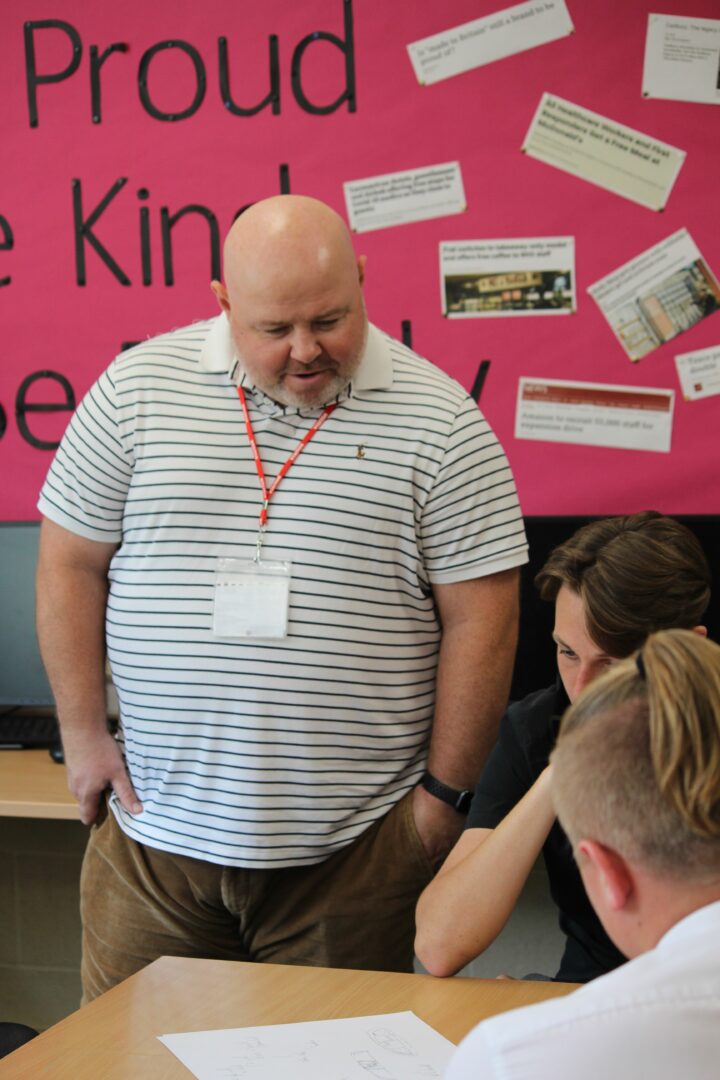 Students learned about contemporary, 'world of work' recruitment practises and had a go at professional, Cappfinity strengths profiling, a range of psychometric tests, practised video interviews and took part in a genuine, 'Preta Manger', early careers recruitment assessment centre challenge.
Each of the forms were supported by visiting professional mentors from 19 leading industry firms including KMPG, Virgin-02, Mott MacDonald, Avison Young, WSP, Birmingham City Council, the Careers Enterprise Company, The NHS, Pathway CTM and many more.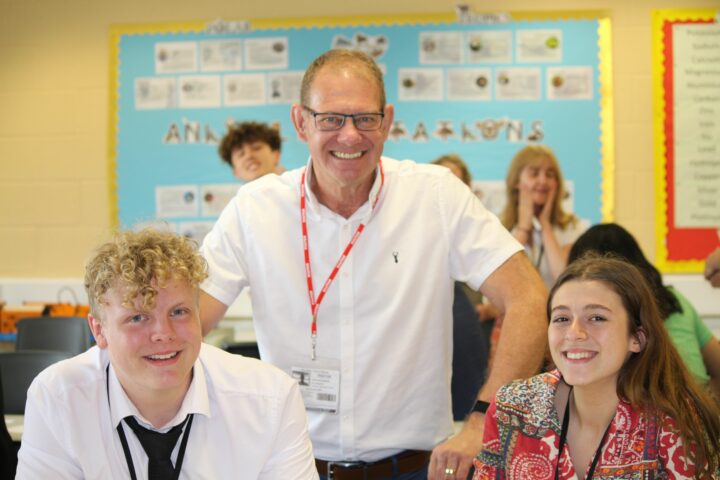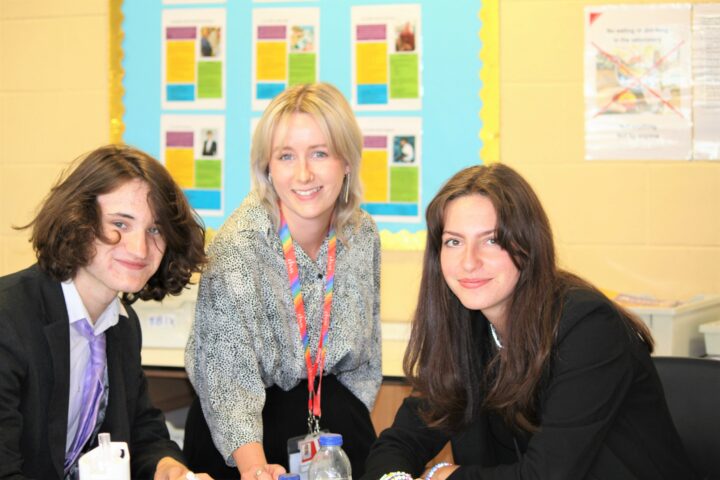 Congratulations to a winner of the Regional Fusal Pokemon U12's UK finals!
A huge congratulations to Kai, who was part of the Winners of the Regional Fusal Pokemon U12's UK finals 2022 team! Kai was praised by Mrs Kibble, and rewarded with a certificate, a bag of sweets and a Headteachers Pen! Well done!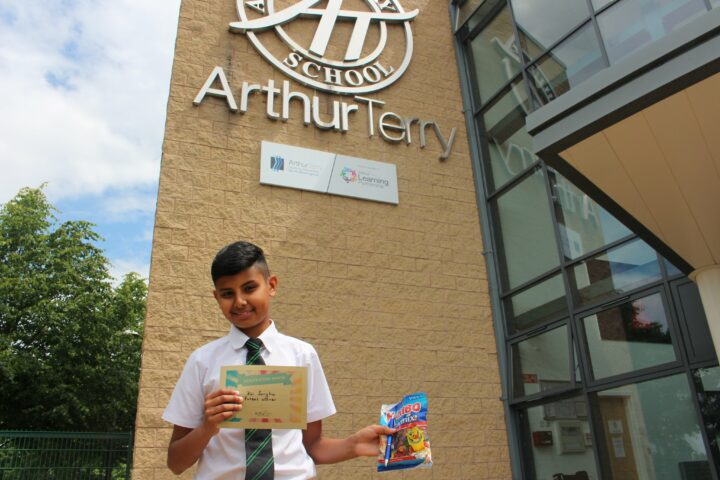 Year 10 Tie & Blazer Swap
A huge thank you to our Year 10 students for donating their old blazers and tie! We had an amazing collection! Students were able to recycle their old uniform in exchange for a can of pop and some sweets.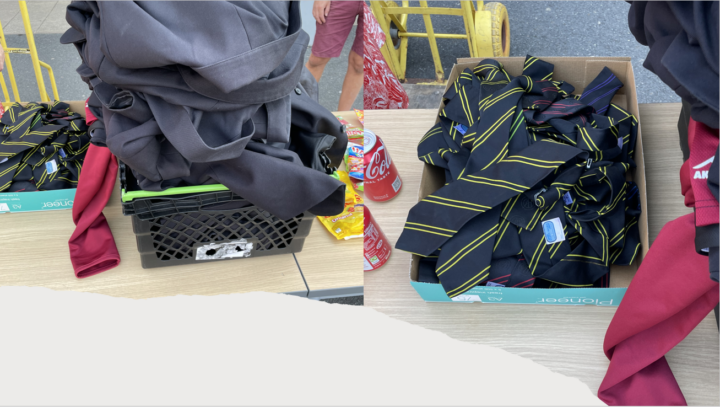 Enrichment
Lovely and powerful examples from our Yr 7 students learning about Nelson Mandela & Invictus during Enrichment Day. Students took part in a wide range of sessions celebrating B'ham hosting the Commonwealth Games & the benefits of taking part in enrichment activities for well-being.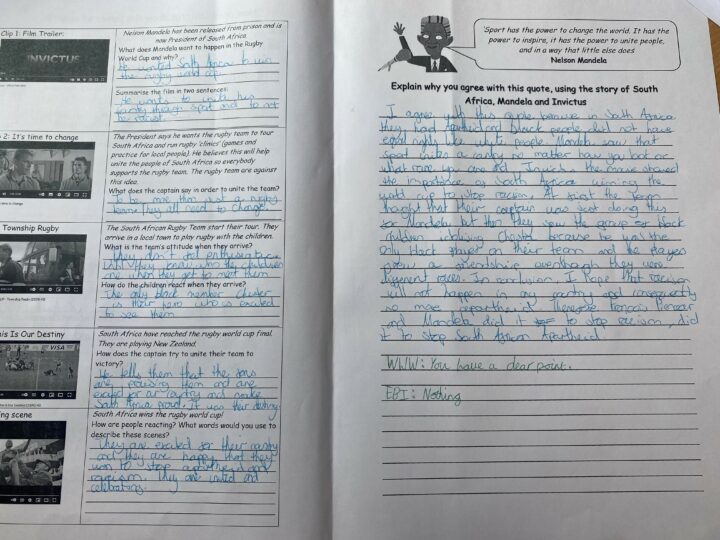 Students mixing physical activity with virtual reality in a game of HADO as part of their enrichment day learning about the Commonwealth Games, sport and the benefits of talking part in enrichment activities for well-being.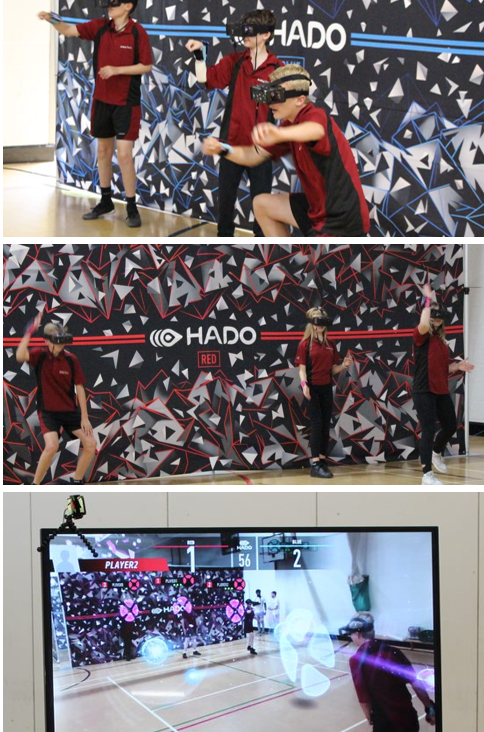 Student School Leaders
Congratulations to our recently appointed Senior School Leaders for 2022/23! Each student will lead a committee of students in their respective areas, working to lead change in the school and wider community. Congratulations to you all!
Congratulations to our recently appointed Deputy Senior School Leaders for 2022/23! Each student will work alongside the Senior School Leader in their respective area, working to lead change in the school and wider community. Congratulations to you all!
Greenpower Success!
The Arthur Terry Greenpower Formula 24 Race Team visited a circuit they had never raced on before- Blyton Park Race Track in Lincolnshire. Formerly RAF Blyton, the dis-used airfield is now made up into several different circuits and is home to a Ginetta race training establishment.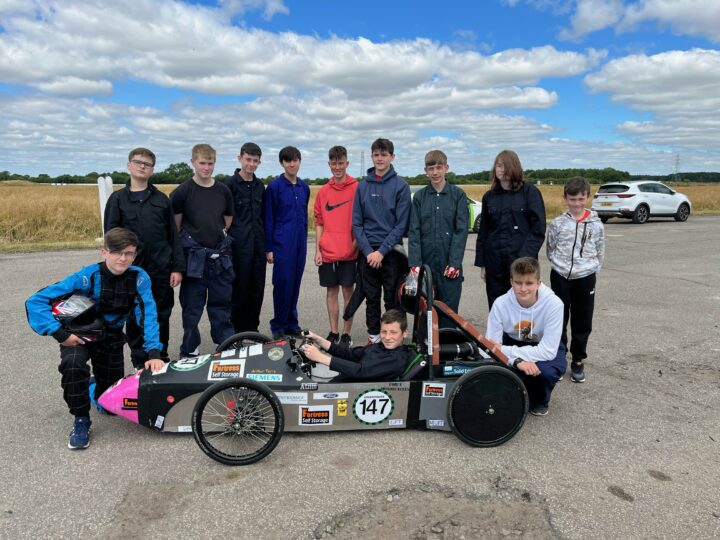 On an incredibly hot day and on a track unfamiliar to the Arthur Terry team, most of whom had never driven the car at full speed, let alone raced, the odds seemed stacked against them. The countless hours they have spent practicing pit stops, together with the recent upgrades to the electronic speed controller and new, improved wheel bearings, however, gave the Arthur Terry team an advantage. These upgrades were all paid for by a very generous donation by Fortress Self Storage Ltd.
In practice/ qualifying, Ewan, an experienced kart racer, was able to set a blistering few laps to prove all of the upgrades were working and worthwhile and gave inspiration to the rest of the team. Maison, Evelyn and Cameron followed in the practice sessions with their first ever full- speed drives- each of them dispelling their pre- drive nerves by their first corner. The team now has another three drivers ready for their first race at their next event!
Race 1 of the F24 Junior race proved tough, with The Atom being swamped from the F1- style grid start with all 19 cars going into turn 1 together. After slipping back several places, Oliver used the new improvements exactly in the strategy we had practiced and started to sweep through the field. 30 minutes into the race Oliver pitted for the first of the stops and driver changes, with Joe taking over as the field continued to spread. A couple of mid- race spins from other cars brought the yellow flag out twice in Joe's section of the race which prevented Joe from overtaking any more teams. After the final pit stop of race 1, Jonathan took the reins as the batteries on all teams were starting to fade. It was now Jonathan's job to keep the car running smoothly and consistently at all costs to bring The Atom home. Jonathan was able to cross the line maintaining the 6th place held throughout the majority of the race.
Next Sam represented the school in the F24+ Senior race, a one hour, one driver race against other teams, some of whom are very experienced racers. Pre- race Sam, Team manager Harvey, Mr Briggs and Mr Batty held a strategy meeting to discuss tactics as the conditions were perfect for slipstreaming. From the drop of the starting flag, Sam started what became the most exciting hour of wheel- to- wheel racing as he pitted his wits and competed for first place in the category. After an hour of total concentration, with places being exchanged at every corner and Sam making many incredibly brave, millimetre- perfect overtakes, it all came down to the final corner of the final lap. Approaching the turn Sam was in second place but expertly slipstreaming his opponent. Sam then made his genius 'dummy' overtake on the outside. The opposing team moved wide to block and Sam, knowing it was all or nothing, dived up the inside and took the lead, crossing the line 0.8 seconds ahead of the second- placed car. Our first ever race win in the ten years of regular second and third places! This also gained us not only first placed kit car but second place over all, beaten by only one of the much lighter 'scratch built' cars.
Race 2 of the Junior F24 competition saw us starting at the back of the grid for reasons we do not know despite our enquiries with the Race Controllers. Not to be deterred by this, Arley launched off the start line like a startled gazelle and had carved his way through 2/3 of the field by the end of his first lap! At this point Mr Briggs, Mr Batty and the Team Manager were already busy doing calculations for when to pit and how long we could sustain the pace on the limited amount of energy we were carrying. Pit stop 1 saw Joe go out and continue to work his way up the pack and the decision was made to make the final planned pit stop slightly early to avoid traffic in the smallest pit lane in the Greenpower race series. For the final third of the race Tom went onto the circuit with all to race for. As batteries on all cars started to fade, the team were up to third place with the fourth placed car gaining. A forced error saw Arthur Terry have to make an unplanned pit stop but all of the pit stop training once again showed as we re- emerged left us just ahead of the 4th placed car. In the final seconds of the race Tom made a number of blocks to stop the car behind and we cross the line with a 3 second advantage to end our most successful race day in the ten years we have been participating in the Greenpower Education Trust's Formula 24 and Formula 24+ races- three trophies and all drivers came away with three individual medals, in addition to Arthur Terry School giving support to another team from the Humber area who were at their first ever Greenpower race and needed some battery assistance- all in a day's work for the Arthur Terry Greenpower Centre of Excellence!
As we enter the summer break we still have a heat at the Dunsfold circuit (famous as the Top Gear Track) and, following our latest success, we have now secured a place in the International Final at historic Goodwood in October.
Sports Day
Our school sports day was a huge success! It was wonderful to see many of our students enjoying all the activities that were planned outdoors, giving maximum effort to reach the finish line! See some photos below: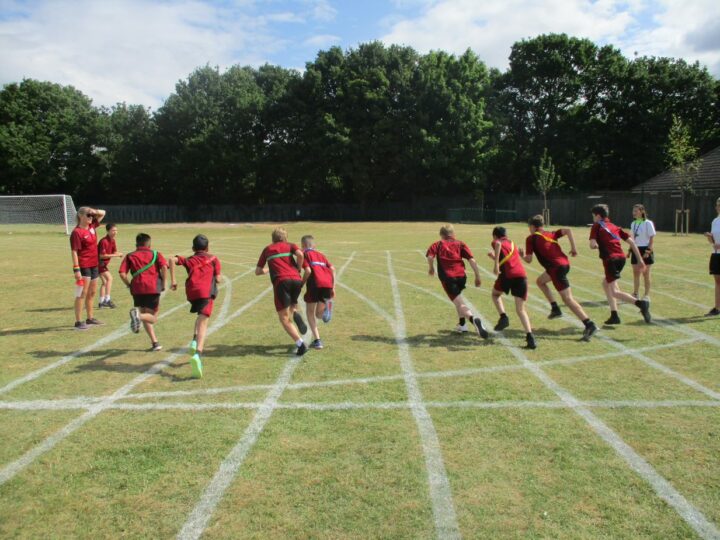 Colour Run
Students and staff enjoyed an afternoon in our Colour run! It was amazing to see students having an excellent time!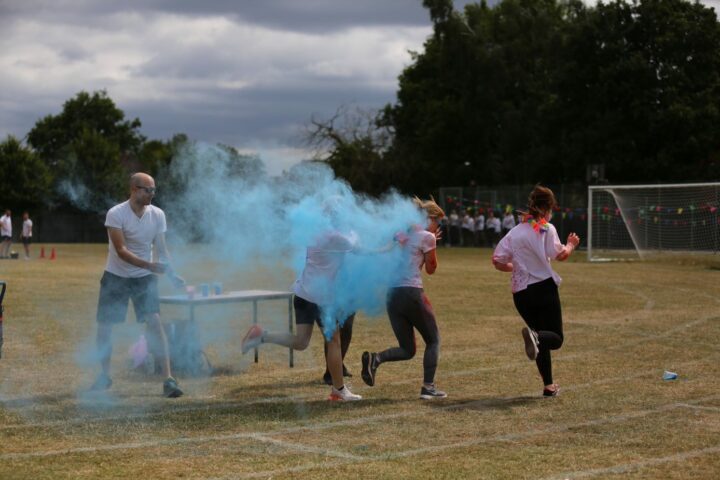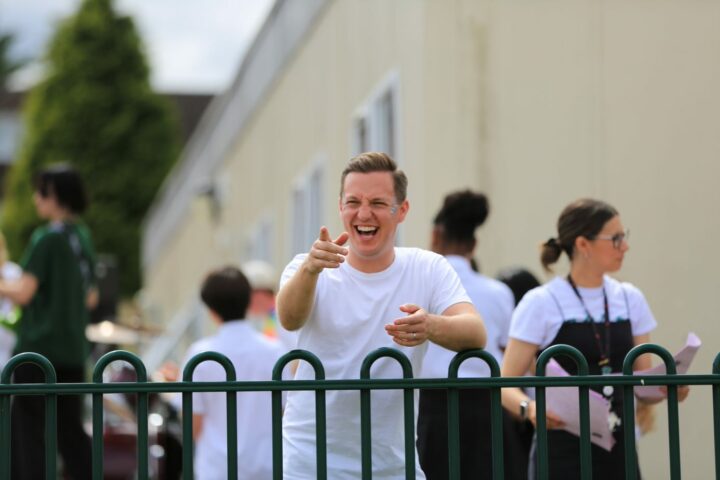 Arthur Terry Teaching School Hub OFSTED Result
Exciting news! We are delighted to announce that Arthur Terry SCITT has achieved an 'OUTSTANDING' judgement in our recent OFSTED inspection! To read the report, please CLICK HERE.

See what students are 'cooking' up in Food Prep!
Cooking from round the Commonwealth. Trying new culinary skills and deciding on their favourite dishes as part of Year 7 Enrichment day!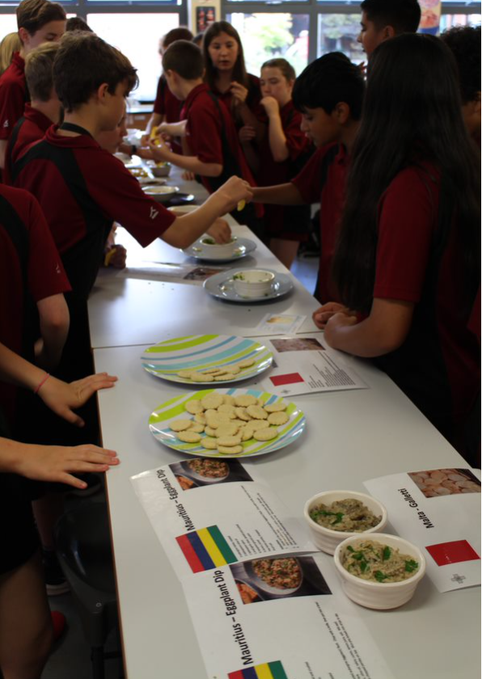 Sixth Form
Congratulations to our year 12 Degree Apprenticeship Cohort, taking up networking opportunities at today's Festival of Apprenticeships at Millennium Point, Birmingham! #ATCareers
Sports Day Volunteers
Year 12 kindly helped run Sports Day, organising runners, recording results and encouraging our younger athletes!