Student Leadership
At present there are 164 students involved in Leadership roles within school! (March 2022). The information below outlines our vision for Student Leadership, as well as the ways you can get involved in school.
Our Vision
At Arthur Terry we recognise the importance of providing our students with a diverse range of opportunities to become involved in Leadership. Our provision for Student Leadership continues to evolve and provides students with an opportunity to have a positive impact on the school community they are part of, as well as preparing them with a range of skills and qualities they will need in an ever-changing world beyond school life.
Students can become involved in any of three main areas: Achievement, Community, or Enrichment (ACE). Within each of these areas are a range of committees that work together to bring about positive change within our school environment. Some of our current committees include:
Eco Committee
Wellbeing Committee
Charity Committee
Mentoring Committee
Celebrating Success Committee
We believe that our Student Leadership provision provides our students with opportunities to demonstrate and develop a whole range of personal skills and qualities including:
Resilience
Confidence
Communication
Creativity
Courage
Teamwork
Delegation
Respect
Goal Setting
Empathy
Honesty
Commitment
Problem solving
Adaptability
…and many more!
Leadership Structure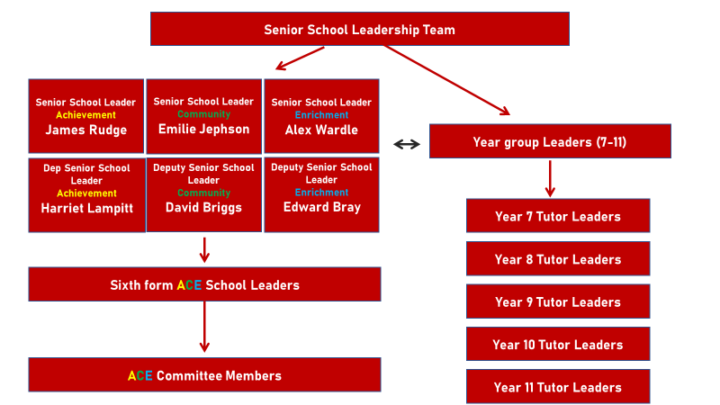 In addition to our ACE School Leaders and Committees, each tutor group elects a Tutor Group Leader at the beginning of the academic year. A brief job description for our Tutor Group leaders is shown below.
Tutor Leader Job Description
Job Title: Tutor Group Leader
Reports to: Year Group Leader, Tutor, Progress Leader, SSL/DSSL.
Role Overview
To be the lead member of their respective tutor group, acting as a role model to others. The tutor leader will speak for their tutor group, sharing collective thoughts and opinions of others. They will assist their tutor regularly in a range of different ways and will strive to achieve positive outcomes for their peers. They will empower others and will take pride in what they do, promoting involvement, excellence and high standards to those around them.
Some Key Responsibilities include:
•Reading out the weekly student briefing, sharing vital information with your tutees and fielding any queries relating to briefing, which are then passed back to the tutor.
•Supporting with matters of student feedback, collating the thoughts of their respective tutor group and feeding back to Tutor, PL or SSL where required.
•To maintain high standards of behaviour and a positive attitude to school, with a commitment to supporting school aims and priorities.
•To support at a range of school activities and events where possible, promoting participation among others.
Sports Leadership
We currently offer the Sports Leadership Programme in Year 9, where students get the opportunity to learn and develop the following skills through sport:
Students involved in our Sports Leadership provision complete the following units:
Developing leadership skills
Plan, lead and evaluate sport/physical activity sessions
Assist in planning and leading a sports/physical activity event
Lead sport/physical activity sessions linked with the centre
Lead sport/physical activity sessions linked with the community